Project 11 Launches into the Fall
September 23, 2016 12:55 pm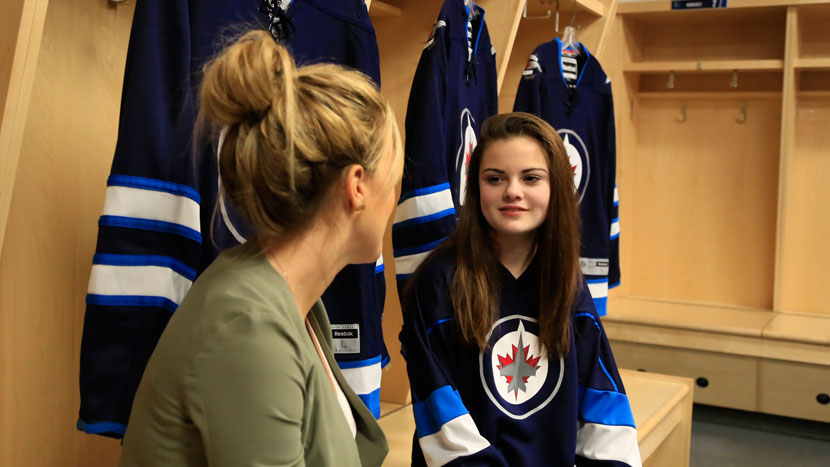 The Project 11 team has been busy preparing this summer for October's teacher training days. We have been making modifications to the grades 5 and 6 programs, filming the grades 7 and 8 mental health lessons and working with community leaders to create innovative "Intermissions" for grades 5 to 8 classrooms. Just to name a few, we had Ace Burpee join us this summer to create some Fun with Fitness videos for the grades 5 and 6 program. Musician/Life Coach/Yoga Instructor, Keith Macpherson filmed some "Mindful Moments" (breathing exercise) videos with us and our very own Winnipeg Jet, Mark Stuart filmed the grade 7 and 8 "Question Marks". Stuart genuinely answered students' questions about his own mental wellness practices and how he can relate to some of today's grade 7 and 8 challenges, as he reminisces about his experiences back when he was in Middle Years.
Last year at our Project 11 training days, we trained 86 grades 5 and 6 teachers. This Fall there will be approximately 350 grades 5-8 teachers trained in Winnipeg and in Thompson, Manitoba. from the following school divisions: Border Land, Beautiful Plains, Brandon, Praire Rose, Park West, Franco-Manitobaine, Flin Flon, Fort La Bosse, Frontier, Hanover, Lord Selkirk, Interlake, Seven Oaks, Kelsey, Lakeshore, Louis Riel, Pembina Trails, Pine Creek, Portage La Prairie, Prairie Spirit, Rolling River, River East Transcona, Seine River, St. James, Sunrise, Turtle Mountain, Winnipeg, Mountain View, and the Opaskwayak Ed. Authority. There are also teachers from 8 independent schools in Manitoba registered for training.
We are excited to continue working with representatives from Healthy Child Manitoba. Teaming together to collect data from both students and staff has really helped us gain feedback during our pilots. Last year's records from the grades 5 and 6 pilot confirmed that there is a need for mental wellness education in schools. Both teachers and students expressed their admiration for the program and appreciated the stage of empathy that the program naturally created within their classroom community. One statistic that was prominent in our findings was that the odds of being bullied by others in the Project 11 classrooms decreased by 54% from pre-test to post-test of the program!
Classroom visits with Winnipeg Jet, Mark Stuart and our new Manitoba Moose representative will be confirmed soon. Stay tuned to find out which Moose is joining our Project 11 team!