Project 11 teacher testimonial
August 17, 2018 10:50 am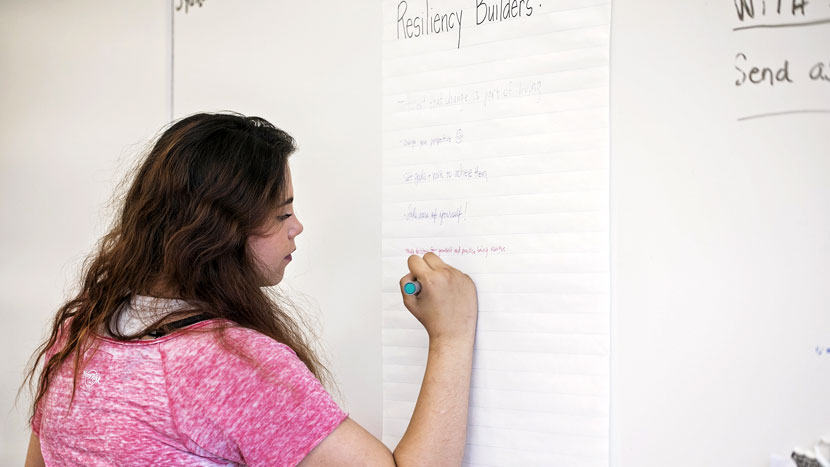 The Project 11 team continues to receive positive feedback from students and teachers who are benefiting from the lessons and activities of the mental wellness curriculum. Below, a grade 4/5 teacher shares how implementing Project 11 in her classroom last year has made such a significant difference over her previous seven years of teaching without it:
"After hearing great things about Project 11 from a colleague, this year I incorporated the program into my teaching practice for the first time. I knew that I wanted to focus more on mental wellness as part of our Health curriculum and I thought that this might be a helpful resource to include.
I started the year with some concerns about my class. Being part of a new school, my students came from several different feeder schools and thus entered the class as strangers at the start. Many were feeling upset at having to leave the friends and schools that they were familiar with. It soon became apparent that students were feeling anxious and disconnected which led to some children withdrawing, others acting out, and a general lack of camaraderie in the classroom.
I realized that in order for any significant change to take place, I would first need to foster some connections with and among my students. I wanted to let you know that the Project 11 lessons really helped, in addition to classroom meetings and other strategies I was already using, to make a positive impact and unite us as a classroom community. I used the Grade 5 lessons with both my Grades 4s and 5s and found it to be very appropriate and meaningful.
The program really helped us all get to know one another and was extremely helpful in opening up conversations about how they were feeling, how to make friends, how to support one another, how to cope with stress in healthy ways, etc. Students were able to recognize that they weren't alone in how they were feeling and it helped to create a rapport amongst everyone in our classroom community. Over time, students began to gain trust, feel more connected and practice more positive ways of communicating. We also started to develop a common language which helped students to open up and communicate their feelings. Through class discussions and journaling, my students (and I) became more self-aware and began to use healthy coping strategies such as practicing gratitude, reaching out for support, creating win-win situations, etc. This helped to empower the students through problem solving and resolving conflicts, which inevitably arise at this and at any grade level.
The program also helped me personally as I navigated through the lessons with my students. I believe that as a teacher it is important to model these concepts and skills and so I participated alongside them, taking part in the lesson activities, mindful moments and intermissions. I benefited a great deal from taking time to reflect and writing in my own journal when they did.
I have loved seeing the difference that Project 11 has made in my students and in my own life both professionally and personally. I have even used some of the components at home with my own children with great success. I just wanted to let you know that this program is making a difference and to thank you for creating such a meaningful, user-friendly resource. I will definitely be registering my class for the coming year and am excited to hear that you will now be reaching even more students with the new K-4 addition. I will be encouraging my colleagues in both English and French Immersion to participate."
For more information and to register for Project 11, please visit: projecteleven.ca/registration.