TNYF Hits the Ice with 675 Students
September 23, 2016 1:02 pm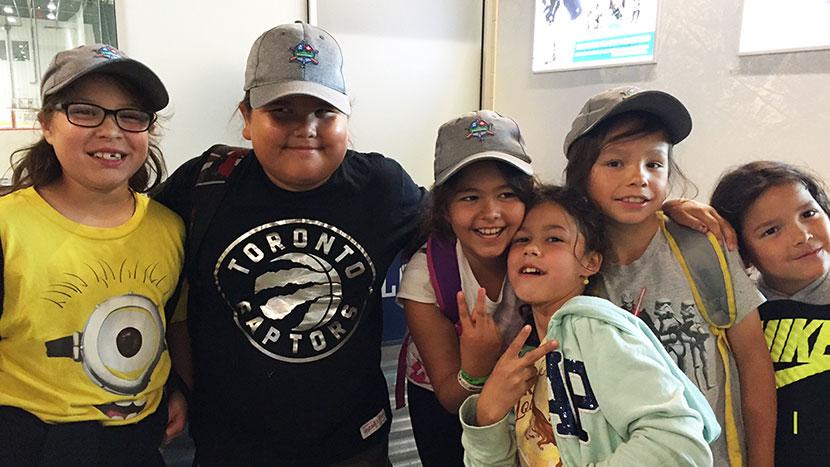 As summer 2016 comes to a close, we can put a wrap on our first year of offering a week of camp to all Winnipeg Jets Hockey Academy (WJHA) students free of charge. The WJHA summer camp involved spending half the day at the MTS Iceplex and half the day at Camp Manitou. At the MTS Iceplex, students participated in on-ice training, off-ice training and a classroom session. At Camp Manitou the students went swimming, zip-lining, rock climbing, fishing and archery, just to name just a few of the activities offered. We had a total of 430 WJHA students come to camp over 4 weeks.
Looking towards the 2016-2017 WJHA season we have some exciting new additions to our programming. This fall we will be adding Gonzaga Middle School and Kildonan East High School to our roster of partnering schools. The WJHA will now consist of 19 schools and 675 students who all participate in our school day program and after school program. Classes will range from grades 2 to 11 and we will have our very first student graduating this year from River East Collegiate. She has been with the WJHA since it was the Little Moose Program back in 2010-2011. In the 2017-2018 school year we are excited to have our first larger class graduating high school.
In addition to adding two schools and new students entering our elementary school classes, we will also be adding two new minor hockey teams. We will now have a total of 4 teams playing in the Winnipeg Minor Hockey Association. We will have two boys teams and two girls teams playing respectively in the boys atom and minor peewee levels and the girls atom and peewee levels. Furthermore, in January 2017 we are looking forward to launching a Learn to Play program in partnership with the NHL/NHLPA for an additional 250 students to remove the participation barriers of hockey.
Another exciting addition for our WJHA staff and program this year is the MTS Iceplex expansion. The expansion will provide the WJHA with additional offices, a classroom for the students and an equipment storage area. This will allow us to outfit the students in their equipment quickly and efficiently, while also having more equipment on site to adjust sizes as students grow throughout the year.