True North Youth Foundation's Project 11 receives a $10,000 grant from the Bell Let's Talk Community Fund
January 31, 2018 3:28 pm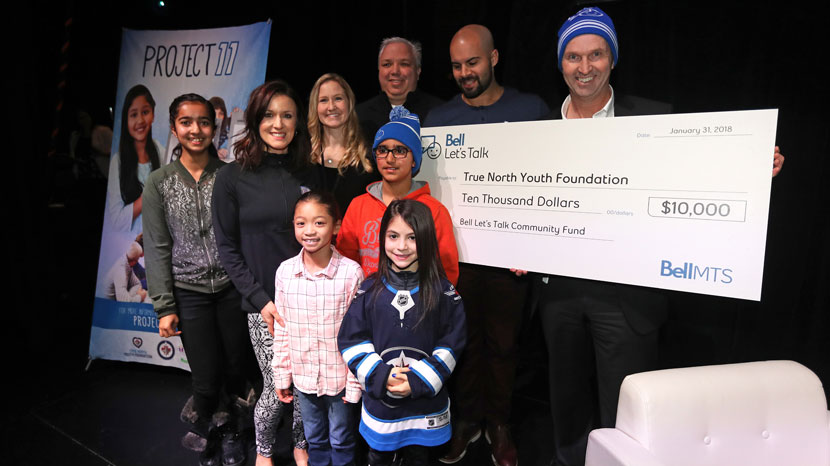 The True North Youth Foundation (TNYF) is pleased to announce it was presented with a $10,000 grant from the Bell Let's Talk Community Fund during today's inaugural P11 Mental Wellness Summit, held in conjunction with Bell Let's Talk Day.
"We are very grateful to Bell Let's Talk for this grant, which will go a long way in introducing Project 11's mental wellness messages and curriculum to northern classrooms," said Suzi Friesen, Director of Educational Programming with the True North Youth Foundation. "We receive many requests for speakers in remote and northern communities, and this funding will help us to connect students and teachers with new resources, as well as reinforce the importance of peer-to-peer connections and open communication when managing issues that affect mental wellness."
Introduced in 2015 in memory of Manitoba Moose and Winnipeg Jets player Rick Rypien, Project 11 is a preventative cross-curricular program centred around helping students in grades 5-8 develop positive mental health coping skills to deal with life's daily stressors. The project also aims to remove the stigma and fear of judgement that can accompany mental wellness issues, while enhancing students' academic performance.
The Bell Let's Talk Community Fund grant will be used to facilitate Project 11 teacher training and classroom presentations in Northern Manitoba starting this school year. Eight northern Manitoba classrooms are currently participating in Project 11, and the program's resources will be of great benefit to more schools in this region.
"Bell Let's Talk is very proud to support the expansion of the True North Youth Foundation's Project 11 to increase student participation in northern regions of the province," said Dan McKeen, Bell's Vice Chair, Bell MTS & Western Canada. "In 2017, the Bell Let's Talk Community Fund provided 70 grants to support programs providing mental health services in communities around the country. We recently announced the fund will be doubled starting this year, so we look forward to supporting the work of many more community organizations in 2018."
This school year, more than 500 educators from 200 schools have implemented Project 11 curriculum. This translates to more than 11,500 students discussing mental wellness more openly, and gaining skills and strategies to help them cope more effectively with challenges and stress in their school, personal and future work life.
Today is Bell Let's Talk Day
Bell will donate 5 cents to Canadian mental health programs for each of the following interactions, at no extra cost to participants:
Text and talk: Every text message, mobile and long distance call made by Bell and Bell MTS customers
Twitter: Every tweet using #BellLetsTalk and Bell Let's Talk Day video view
Facebook: Every view of the Bell Let's Talk Day video at Facebook.com/BellLetsTalk and use of the Bell Let's Talk frame
Instagram: Every Bell Let's Talk Day video view
Snapchat: Every use of the Bell Let's Talk filter and video view
The Bell Let's Talk initiative promotes Canadian mental health with national awareness and anti-stigma campaigns like Bell Let's Talk Day, and provides significant Bell funding for community care and access, research and workplace initiatives. To learn more, please visit Bell.ca/LetsTalk.
Project 11 teacher training is ongoing and there is still an opportunity to register classrooms for the current academic year. Teachers can visit projecteleven.ca for more information about the program and to register.