We are all on the same team. Join the fight.
November 5, 2016 11:44 am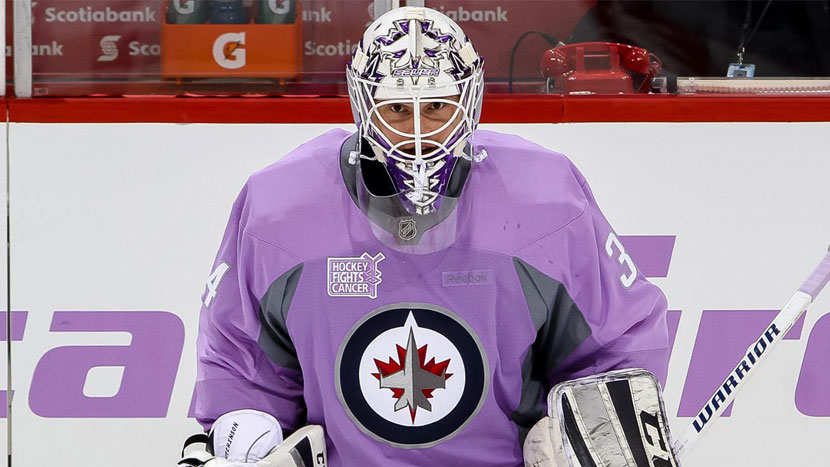 Recognized by the bright lavender colour, Hockey Fights Cancer is a league initiative that was put in place to raise funds as well as promote awareness for cancer. Founded in 1998 by the National Hockey League in partnership with the National Hockey League's Players' Association, this initiative has worked to raise over $16 million in support of cancer programs, hospitals, research institutions and charities across cities in the NHL. Hockey Fights Cancer is supported not only by the NHL players and alumni, but also the officials, trainers, equipment managers, corporate partners and many more.
On Tuesday, November 15, 2016 the Winnipeg Jets will host their Hockey Fights Cancer night at the MTS Centre when they face off against the Chicago Blackhawks. With puck drop at 7:00 p.m., fans will have the opportunity to join the fight, alongside many individuals whose lives have been touched by this disease. The Jets players will hit the ice for warmup dressed in the official lavender-coloured Hockey Fights Cancer jerseys, and the coaches and broadcasters will be sporting lavender ties.
To support Hockey Fights Cancer until November 15, fans can purchase raffle tickets for $5 each, giving them a chance to win 1 of 10 autographed Hockey Fights Cancer warm-up jerseys. In a show of strong support, fans have purchased all the autographed mystery pucks, which were selling for $40. The mini sticks are sold-out, too. They were selling for $20. With 100% of the proceeds going to CancerCare Manitoba's pediatric clinical trials, Hockey Fights Cancer is set up at every Jets and Moose home game up until November 15, including the Heritage Classic, raising money, and bringing attention to a cause that is near and dear to so many hearts.
It is apparent to all who reside in the city of Winnipeg that True North is a company that is passionate about their hockey teams. However, in addition to developing high calibre sports teams, they burn with the desire to meaningfully impact the wider community. Paige Small, a third year business student interning at True North, has had the opportunity to work with Hockey Fights Cancer during her time with the community relations department. "It is truly a rewarding experience," Small says, "I have been able to interact with people attending the games and hear some of their stories about cancer and see how it has affected their lives, whether that means they went through it personally or have had relatives and friends go through it. I think the Hockey Fights Cancer campaign is an amazing way to raise money and awareness."
With the slogan "We are True North" displayed on each employee's desk, it is apparent that True North takes pride in the people who make up the company. With mutual respect, and a strong sense of unity, there is no shortage of support when it comes to a company initiative, and the Hockey Fights Cancer campaign is no exception. Director of community relations, Barrett Paulsen says that, "with the great work that Cancer Care Manitoba does, we just wanted to get behind it." From raising $10,00 the first year, to over $170,00 last year, Paulsen shares that "it just feels really good to give to such a great cause, and it feels really good to show the rest of the NHL the community and support that the Winnipeg Jets have with their fans."
The Winnipeg Jets are consistently among the leading franchises in the National Hockey League for money raised for the Hockey Fights Cancer campaign, and Paulsen attributes it to the underlying personality traits and generous nature of Manitobans and Winnipeg Jets fans. We are all on the same team, fighting for the same cause.
Join our fight.