Heisinger honoured for mental wellness advocacy
March 11, 2019 10:14 am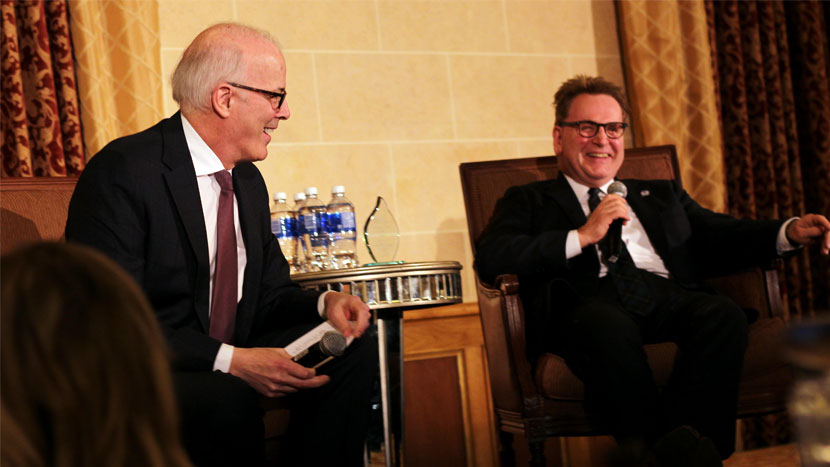 "Surely you can find someone better than me."
That's how Craig Heisinger answered James Ferguson, Chair of the Pan Am Clinic Foundation, when he called and asked if 'Zinger' would attend a dinner in his honour.
Ferguson says he wasn't surprised by Heisinger's answer. During their 20-year friendship Ferguson says Heisinger has never wanted the spotlight, always staying humble despite his incredible work for the community.
Ferguson remarked in his opening speech that this year's annual Fire & Ice Gala filled every seat in the Grand Ballroom at Winnipeg's historic Fort Garry Hotel on March 6, and for good reason. Heisinger, Sr. Vice President and Director of Hockey Operations/Assistant General Manager of the Winnipeg Jets and Manitoba Moose, is the pioneer behind Project 11, a mental health initiative primarily working with middle school kids.
Following the passing of former Manitoba Moose centre Rick Rypien in 2011, Heisinger says he wanted to honour his close friend who struggled with mental health.
"I knew right away I had to do something for him. He worked so hard to give back to the community. He wanted to help every kid and was always looking for new ways to help. Ripper was an incredible person and to honour him, I knew we had to do it right," says Heisinger.
Zinger, as he's affectionately known, started his hockey career in Winnipeg as the Equipment Manager for the first installment of the Winnipeg Jets. Endearing footage from his days sharpening skates and patching equipment for the likes of Keith Tkachuk and Teemu Selanne were beamed onto the walls of the Grand Ballroom as Scott Oake hosted a Q & A with the man of the hour.
Zinger spoke about forming a bond with Rypien back when he was the captain of the Regina Pats in the Western Hockey League.
"The Vancouver Canucks sent me to scout a player on the Pats and every time I came back I told them they needed to look at this Rypien kid," he says, adding that the Canucks told him they weren't interested in the undersized centre.
Zinger says it was Randy Carlyle, the Head Coach of the Manitoba Moose at the time, who told him if he saw a player he thought was deserving of a shot, he should give it to him.
"When we signed him to the Moose, I was blown away with his work ethic," says Zinger.
Zinger shared stories of staying up late, pacing in his living room on the phone with Rypien, who often worried about being a burden to the people around him, questioning if he was bothering his friends with his own problems. According to Zinger, NHLer and Rypien's former teammate Kevin Bieksa said it best: "If you were a burden, we would tell you. But you're not. We're here to listen to you and try to help you because that's what friends do."
Zinger, along with his Project 11 team, have developed over 500 educational videos as part of a 15-week curriculum to teach students and teachers ways of coping and dealing with mental health issues. From Project 11's humble beginning in 2014, the initiative's important mental wellness messages are now being shared with more than 30,000 Manitoba students and teachers this year alone, thanks to continued program growth and a pilot expansion to Grades K to 4 classrooms in 2018-19.
Zinger speaks to students and adults alike sharing Rypien's story with dozens of audiences every year. Following his presentations, audience members often tell him they're worried they'll say the wrong thing if a friend opens up to them. He says the only wrong thing you can say is you don't have the time.
"All you have to do is listen and be there for them," he says.
"It takes a great amount of courage to talk about your feelings and no one is alone. Rick is the one that made all the difference for me. He deserves a great legacy and I think he'd be smiling down at this."