Project 11 an important part of inaugural Jets Town Takeover in Morris
March 11, 2019 9:48 am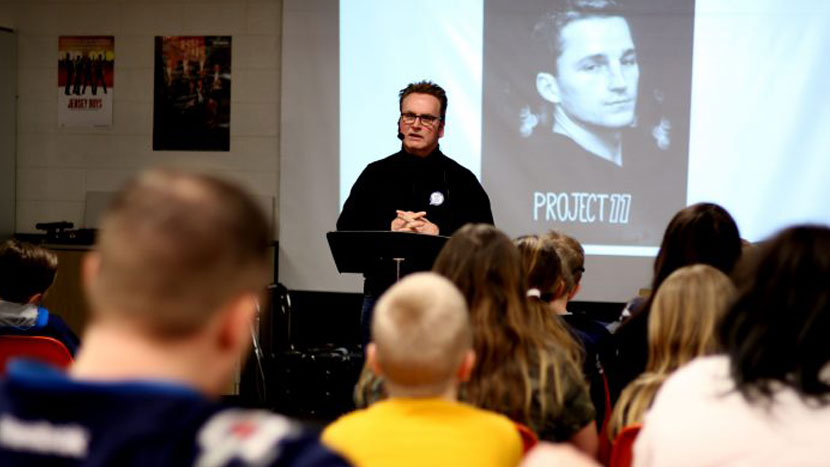 The Winnipeg Jets may have been on the road in Tampa Bay, but to the fans in Morris they were right at home.
In the first ever Jets Town Takeover, True North Sports + Entertainment brought out all the stops to bring the atmosphere of a home game to rural Manitoba.
Students at Morris School were decked out in their favourite Winnipeg Jets gear as they looked forward to a viewing party in the Morris Multiplex to watch the Winnipeg Jets take on the league-leading Tampa Bay Lightning.
The Project 11 team made the trip down to Morris leading students and teachers through mental health teachings during their morning classes. Project 11 continues to be heavily involved in classrooms across Manitoba and has recently launched a pilot program for students in Grades K-4.
The energy in the Morris School gym was electric as over 70 kids from Grades K-2 practiced yoga alongside Mick E. Moose and two instructors from Yoga Barre. Students in Grades 3 and 4 got in on the action afterwards, practicing warrior pose and tree stands before refuelling with a pizza party.
While students waited for their turn to practice yoga, they took part in a mindfulness activity led by the Project 11 team, which sparked some great conversations. Students were encouraged to make notes of what makes them happy and what qualities make someone a good friend.
Middle years and high school students were treated to a presentation by Craig Heisinger, Sr. Vice President & Director, Hockey Ops/Assistant General Manager for the Winnipeg Jets, on the importance of encouraging strong mental wellness. Heisinger shared the story of former Manitoba Moose Rick Rypien and the immeasurable impact Rypien left behind, leading to the creation of Project 11.
While some Morris School teachers had already introduced Project 11 to their classrooms, following the Jets Town Takeover initiative, more are sure to follow, thanks to the resources and the impression that the team left behind.
"On behalf of Morris School, we'd like to thank True North Sports + Entertainment and the Jets and the Moose and Project 11 for coming out and treating us to a day that I don't think we'll forget," said Morris School Principal, Mike Watson.