How You Make a Difference at Camp Manitou
June 23, 2017 9:00 am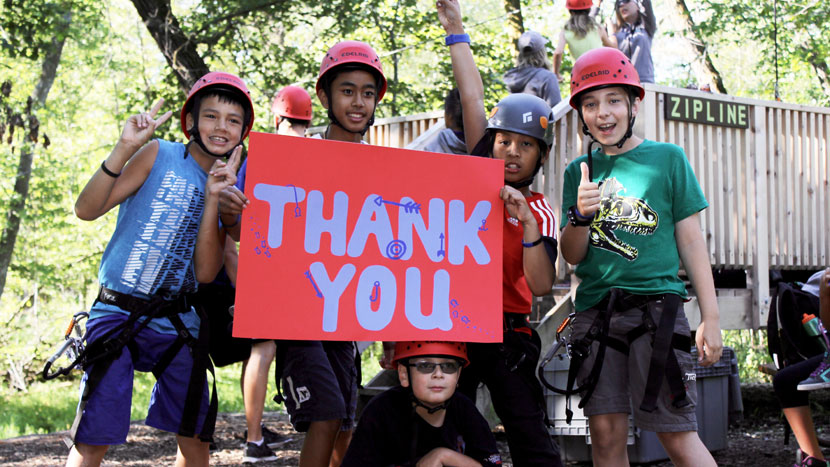 Kids like Liam Need Camp…read Liam's story.
For a six months, Liam was quiet and withdrawn. He was not the same outgoing child that he once had been. His mother, Jen, wondered why his behavior had changed and tried to talk to Liam about it. Liam would always change the subject. He stopped wanting to go to school and hanging around with friends. Finally, one day Liam opened up about how a few boys would push him around and throw his backpack on the ground while he walked to school. Liam's mom was thankful that he opened up and was very supportive of her son. She contacted the school and worked with the teacher on ways to alleviate the bullying. By this point there was not much of the school year left and Liam was still not the social boy he once was. He didn't even seem excited about summer vacation.
Liam's mom knew that something had to change. She was hoping that there was an activity that would help him regain his self-esteem and confidence. Jen had heard of Camp Manitou through a co-worker and thought that many of the activities offered matched up with Liam's interest. She hesitated putting him in camp but decided to take a chance.
Liam's Story
At first, Liam was a little nervous about coming to camp. He wasn't sure if he would like the other kids and was worried that they might be mean. The first morning at check-in, Liam met his instructor and went to the field where he was introduced to his group. They played a few games and then were off to their first activity. That week, Liam did all sorts of cool things such as wall-climbing, zip-lining, swimming, archery, arts & crafts, mountain biking and orienteering. He even celebrated his birthday at camp and they made him feel special by setting up balloons, singing him happy birthday and gave him a birthday cupcake. Not only was he having fun, the other children were nice and he made some new friends.
…Camp makes me happy. I loved my instructor Ryan, he was awesome! I want to spend every birthday at camp."   – Liam
Liam started the new school year with a changed outlook and was able to have a successful year both socially and academically. Camp was a life changing experience for him and one that he will look back on and remember fondly once he is older.
"It was the right decision. After two days at camp, Liam was smiling and talking about his day. Camp was a fun experience which helped him regain his self-confidence and make new friends. He was excited to go to camp and didn't want his experience to end. Liam looks forward to summer so he can be at camp. Thanks to Camp Manitou, my son's summer improved and I have my energetic little boy back."says Jen.
Squeals and laughter at camp can often be heard from across the Assiniboine River. Your generosity makes it possible for children like Liam to experience the adventure of summer camp, make new friends and reconnect with nature.