Payworks Partners with WJHA
May 14, 2019 6:10 pm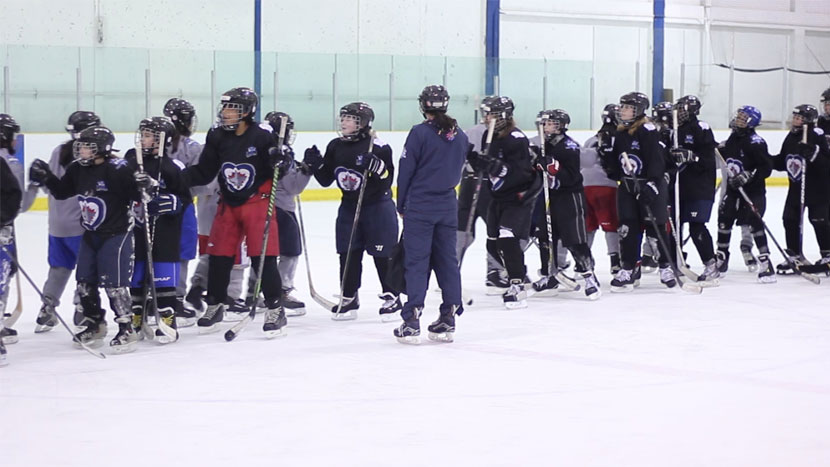 Hockey is more than just a game on a sheet of ice. It builds leaders, grows confidence and has an immeasurable impact on kids' futures.
According to employees at Payworks, that's exactly why they got involved with the Winnipeg Jets Hockey Academy (WJHA) through the Living Philanthropy Program.
The program allows local businesses to sponsor a team's weekly ice sessions and help WJHA coaches develop both skill and character in kids from socially and economically challenged schools. Payworks got involved to help kids learn the fundamentals of hockey, but as employees quickly found out the experience is about a lot more than just ice time.
"The opportunity to help out with coaching, work with kids and build those relationships is a great fit for us as an organization," says Willie Malcolm, Director of Quality who helped spur Payworks' participation in the program as an opportunity to give back to the community.
Malcolm says it's like night and day seeing the kids improve during the 25-week WJHA season.
"When we first started working with the school, a lot of kids couldn't stand up on their own and really struggled with balance. Now at the end of the season they look like mini Winnipeg Jets out there zipping around on the ice, it's just incredible to see."
As enjoyable as it's been for Malcolm to watch the kids develop their balance, passing and skating, he has been just as rewarded seeing their confidence grow along with their communication skills.
Kayla Robinson, a Customer Service Representative, grew up playing hockey and when the
email came into her inbox she "knew this was the perfect way to give back to our community."
"As Canadians, we're very passionate about hockey and it's important for us at Payworks to be involved in our community and helping these kids grow has been amazing," Robinson says.
"Seeing them come back every week you can see their confidence growing so much. They run onto the ice and are always so engaged. It's a great feeling when the kids are high-fiving each other and cheering on their friends."
According to Amanda Lefley, PR & Communications Assistant at Payworks, within half a day of sending out the e-mail, they had enough volunteers and interest to sponsor a second team.
"We were only thinking of sponsoring one team but the positive reaction was almost instant. It just goes to show how passionate people are about giving back and giving kids opportunities they may not normally have," she says.
Murray Cobb, the Director of the Winnipeg Jets Hockey Academy, says companies like Payworks help the WJHA grow and the benefits for everyone go well beyond the ice.
"Having more coaches and volunteers allow us to connect better with kids. Companies like Payworks help us expand by reducing staff costs and they help the program come full circle with volunteer, internship and job opportunities later in life," he says.
For Lefley, the Living Philanthropy Program is a great way to break up the weekly routine as well as connect with colleagues from all parts of her organization in a different environment.
"It's really a fantastic day when you can go home knowing you contributed meaningfully for your company and the community. It builds employee engagement and we've all seen the positive impacts from this program both with the kids and at work," she says.
Currently, ten participating companies are directly supporting more than 450 of the WJHA's 800 student athletes. Cobb says there are plenty of schools still on the hockey academy's waitlist and encourages other local businesses to get involved in supporting the youth of their community.
Companies involved in The Living Philanthropy Program are fully supported by WJHA staff on and off the ice and skating ability is not a requirement for those helping on the bench. Six employee volunteers are needed to support each session, joined by WJHA coaches who help lead and provide structure throughout the 25-week season, which runs from late October to mid-May.
As this year's WJHA season wraps up, planning for next year is underway. To learn how your organization can get involved with the WJHA's Living Philanthropy Program, please visit tnyf.ca/adoptaclass.