Project 11 and #HockeyTalks bring mental health awareness
February 12, 2019 4:15 pm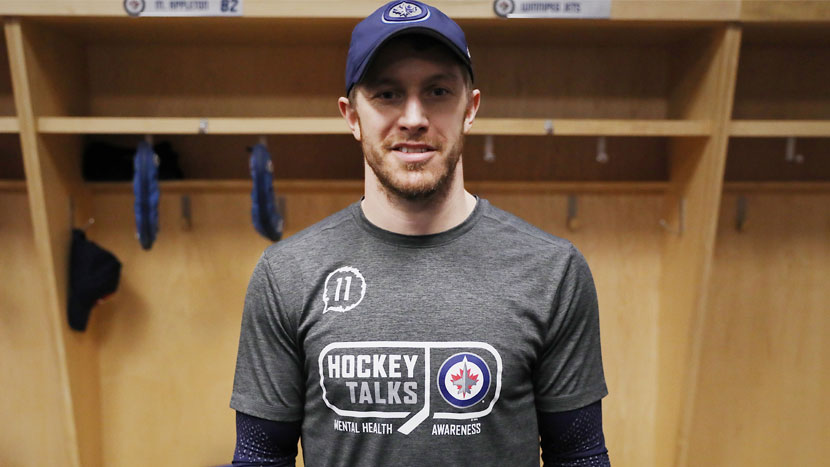 The Winnipeg Jets hosted their seventh annual #HockeyTalks day on Jan. 31, 2019, when they took on the Columbus Blue Jackets. #HockeyTalks is a national public awareness campaign for NHL teams designed to encourage conversations about mental health. The campaign showcases mental health resources and provides information from leading experts, aiming to alleviate some of the misconceptions and stigma associated with mental illness.
During home games throughout the month of January, various mental health organizations were hosted at Bell MTS Place to bring further awareness about mental health resources available in Manitoba. Organizations included Aulneau Resource Centre, Artbeat Studio, Kids Help Phone, Manitoba Schizophrenia Society, Klinic Community Health Care, ADAM, Mood Disorders Association, and the OCD Centre Manitoba. At the Jan. 31 game, the True North Youth Foundation's Project 11 team was on the 100 and 300 level concourse bringing awareness to the program and selling 25 player worn Hockey Talks T-shirts as well as regular Hockey Talks shirts generating $1,230 in support of Project 11.
Project 11 was inspired by and created in memory of former Manitoba Moose player, Rick Rypien. It is a preventative cross-curricular program centred on giving students positive mental health coping skills to deal with life's daily stressors. It also aims to remove negative stigma and the fear of judgement that can accompany mental wellness issues, all while enhancing students' academic performance. The program is open to educators across Manitoba with free training to learn how to easily incorporate P11's mental wellness messages and activities into daily and weekly classroom curriculums.
The Grades 5 to 8 curriculum is fully launched province-wide and following its positive outcomes, P11 has expanded this year to include a pilot of Grades K-4 curriculum.
This school year, more than 1,200 educators from 264 schools have implemented the Project 11 curriculum. This translates to more than 30,000 students discussing mental wellness more openly, and gaining skills and strategies that will allow them to cope more effectively with challenges and stress throughout their school, personal, and future work life.
To learn more how the True North Youth Foundation (TNYF) works to provide mental health programs and resources for youth, please visit www.projecteleven.ca or watch this video https://www.nhl.com/jets/video/our-story–project-11/t-277443454/c-46375403.