Project 11 Mental Wellness Summit expands
February 12, 2019 4:02 pm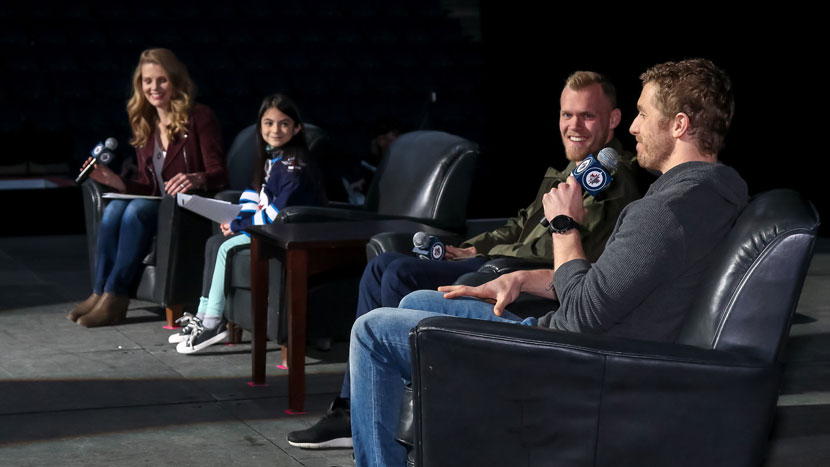 The True North Youth Foundation celebrated Bell Let's Talk day on January 30 with its second annual Project 11 Mental Wellness Summit. Though the event was hosted by the Burton Cummings Theatre last year, it was moved to Bell MTS Place in 2019 to facilitate even more students attending the event. Extreme temperatures may have kept some of the expected 4,100 students from 74 participating Project 11 schools from attending as planned, but a warm and inviting atmosphere and many motivational speakers welcomed the 3,000 students who did make it to the downtown arena.
The 2019 P11 Summit celebrated the success of the program and created a forum for wider exposure to Project 11's speakers, role models, and messages. The Summit presented students with a chance to bring their learning with the Project 11 school program outside the classroom, bringing a sense of community to the mental health issues they have been discussing. The half-day session included a variety of motivational speakers and musicians who shared their experiences to show the broader scope of mental wellness and emphasize that it is an issue that affects us all.
The 2019 Summit began with a Q & A with Winnipeg Jets Nikolaj Ehlers and Bryan Little, moderated by TSN's Sara Orlesky. Craig "Zinger" Heisinger, Senior Vice President & Director of Hockey Operations/Jets Assistant General Manager then shared the impactful story of Project 11. The event also featured participation from Manitoba Moose Head Coach Pascal Vincent and Jets alumnus and current Moose operations personnel Mark Stuart. Other participants included Family Channel host Deepa Prashad; professional golfer Andrew Jenson; local life coach, author, and musician Keith Macpherson; professional fan Cameron Hughes; Olympians Bailey Bram and Desiree Scott; and musical performances by Bea Jamie, Robb Nash, and Garrett Neiles. Hosted by local radio personality Ace Burpee, the event also included videos and an interactive dance break.
The celebration of the empowerment and well-being of youth highlighted the fantastic work going on in classroom, and showed what youth have been doing to support their mental health. And though the day gave students a break from school, it also aimed to teach them how to give themselves a break when they need it. That's something that John W. Gunn Middle School student Kylie Cocks-Loder can identify with.
"There are tests, there are friendships, there is always the stress of the day, or even what you have to do when you get home if you have a busy schedule," said Cocks-Loder. "So (mental health is) a good thing to think about."
Teachers agree that mental health has been a good thing to talk about with their students, and they plan to keep doing it long after the Project 11 Summit is over.
"Even in our own classroom community, when we're talking about being grateful for each other, and about our own strengths in our own character, it brings our classroom community together," said Chelsea Doerksen, a Grade 4 teacher at Bertrun E. Glavin School. "I've seen a lot of growth just building friendships and trust in the class. We talk about a lot of hard issues, and during Project 11 time in the classroom, students feel comfortable sharing more with their classmates than they would have before we started the program."