Sledge hockey an important part of the WJHA
December 7, 2018 4:43 pm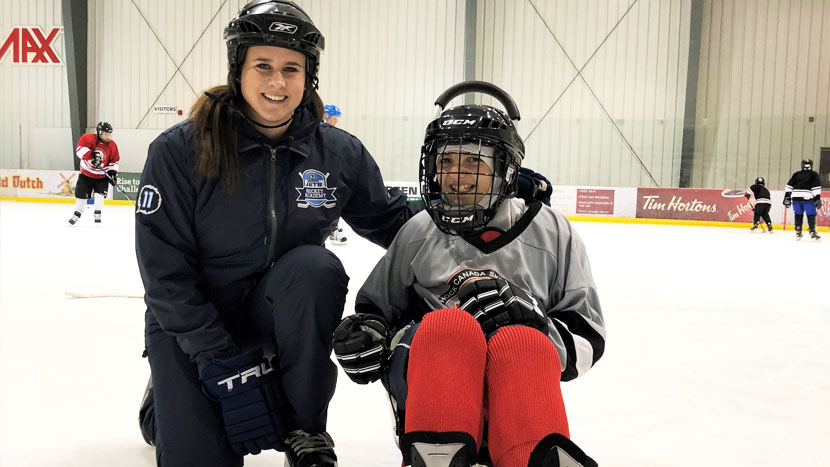 The Winnipeg Jets Hockey Academy (WJHA) is growing every year with more than 850 underserved youth, who wouldn't otherwise get the chance to play hockey participating in this 2018-19 school year. Among the 850 students, we are grateful and proud to have a handful of sledge hockey students.
Dylan, a.k.a "Hollywood", joined the WJHA during its inaugural year in 2009. Hollywood is a super fan for all sports, but when he found out he was able to get the chance to participate in hockey, hockey became his favourite.
Having been part of the WJHA since Grade 2, Hollywood is a well-known guy around the rink. Ask him any sports related question and he will have you beat! Now, in his graduating year, Hollywood has a new understanding and confidence in himself to teach younger students the knowledge he has learned.
"Dylan is a true Canadian boy who loves the rink and feels extremely fortunate to have an opportunity to have a sledge just like his brother's "skates"….warms a mom's heart! I have watched how students on ice with Dylan over the years have gained an understanding of the need for sledge hockey. Life would not be the same for Dylan without the WJHA's friendship and support." – Dylan's mom
Elham, a Syrian refugee new to Canada, was introduced to the sport of hockey only two years ago. She found a love for the game the first time she saw the ice surface. She joined the St. James Assiniboia Hockey Academy (SJAHA) – a joint program with WJHA to provide school credits throughout middle school and high school years.
Elham's smile hasn't left her face since joining. Elham caught on to hockey skills right away. From not knowing how to hold her stick, Elham is now stick handling, shooting and passing with great power. The excitement and thrill she has getting on the bus to hockey, motivates and encourages her classmates every day. Her smile and unique laugh create a heartwarming atmosphere in the dressing room and on the ice.
We are extremely proud of our WJHA sledge hockey athletes and look forward to their future hockey achievements!