WJHA Builds up the Community
May 24, 2019 9:49 am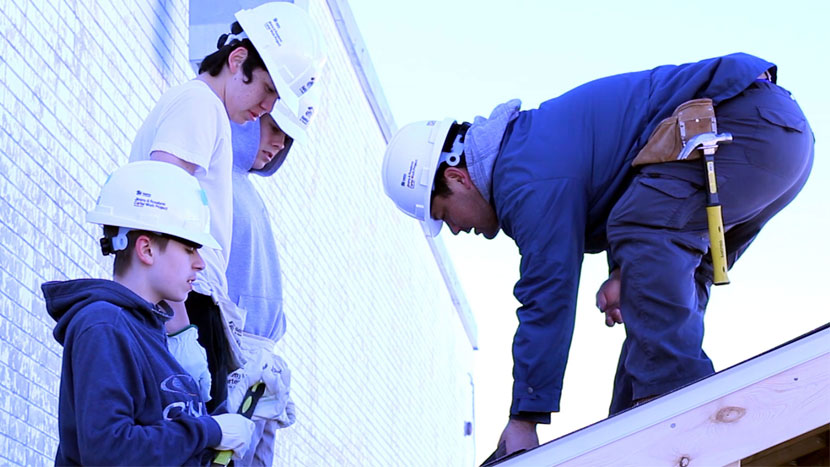 High School students from the Winnipeg Jets Hockey Academy (WJHA) have been hard at work this year giving back to the community and helping make Winnipeg a better place for kids just like them.
In December 2018, 150 Grade 9/10 WJHA students volunteered at Winnipeg Harvest to prepare food that was distributed to food banks for thousands of families in the community. St. James Collegiate students were joined by TNSE team members for TNSE Day of Service and together they sorted approximately 6200 lbs. of food including 3240 pieces of baked goods and 300 bags of potatoes and onions.
In addition, the students volunteered at Boys & Girls Clubs of Winnipeg to assist with the after-school programming at 3 different elementary school clubs. Students spent three hours facilitating foosball tournaments, computer games, crafts and games in the gym including floorball.
Grade 11 and 12 students gave back to their community in another way by getting their hands dirty. On May 2 and May 9, students from John Taylor Collegiate, Sturgeon Heights Collegiate, River East Collegiate and Kildonan Collegiate laced up their steel-toed boots, donned hard hats and picked up a hammer, some for the very first time, to build sheds for deserving families. Habitat for Humanity donates up to 20 homes per year to deserving families in the Winnipeg community and each home is accompanied with a shed and a lawnmower.
Getting involved in the community is something Nick Sasaki, WJHA Academic Performance Coordinator, says is crucial for kids so they learn the value in volunteering.
"At the High School level, our program becomes more focused on developing life skills and we think getting involved with community initiatives like Habitat for Humanity and Winnipeg Harvest help the students appreciate the value of volunteering and hard work," he says.
Gabe, a Grade 11 student at River East Collegiate, says not only is this a great resume builder, but it shows possible career alternatives.
"As students, we spend a lot of time looking at possible careers without experiencing them. Something like this might not be for everyone but it's been a great experience for me and it's shown us a new appreciation for a field we don't discuss much in school," he says.
When both builds were complete, students had finished four sheds and have begun to build two more, guaranteeing six deserving families receive their shed.
Sasaki says volunteering is about so much more than lending your time to a good cause.
"We understand that it's a lot of pressure for high school students when people ask them what they want to do with their future. We just want to show them there are lots of different avenues and figuring out what you want to do is a lifelong process."