Camaraderie and adventure at second annual Canadian Deaf-Blind Camp
June 11, 2019 1:34 pm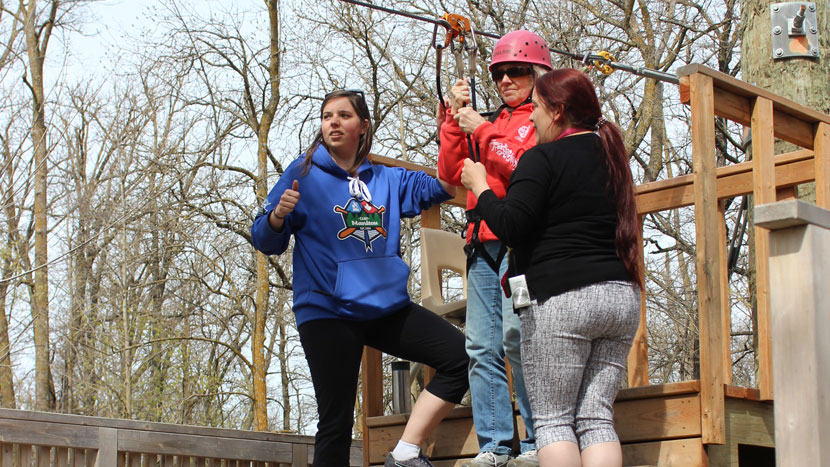 Over the May long weekend, Camp Manitou once again created a unique and fun-filled experience in hosting the Resource Centre for Manitobans who are Deaf-Blind (RCMDB).
After a successful first-ever Canadian Deaf-Blind Camp in 2018, an even larger group of campers with a spectrum of both hearing and vision impairments joined for this year's event and according to Bonnie Heath, Executive Director of Equality Communications Centre of Excellence (ECCOE), they want to come back for a long time and continue to grow the camp.
"Last year we had about 27 adult campers come here and this year it's up to 44 so we know there's a demand for it," says Heath, who also oversees the RCMDB. While most of the campers came from Winnipeg, some campers came from Ontario and two from the United States much to Heath's surprise.
The RCMDB has been operating in Manitoba since 1996 and Heath says unfortunately there are many provinces who don't operate any resource centres for deafblind people.
"The partnership with Camp Manitou and the central location of Winnipeg, coupled with the fact that we already have 23 years of experience working with deafblind people gives us the insight and skill to host the camp."
The staff at Camp Manitou arranged day trips, which included dragon boat racing and time at the Assiniboine Park Zoo focusing on every detail to ensure the safety and enjoyment of campers.
Mackenzie Scharf, Manager at Camp Manitou, commended her staff for putting in a lot of extra work to ensure everyone had an enjoyable and safe experience.
Camp staff took part in an hour-long training session led by RCMDB representatives to learn communication strategies and ways they can assist campers with daily tasks. Along walkways, bright orange pylons were connected by a rope to make travel easier for the campers as they walked to the washroom, the showers and between cabins. Staff used physical touch, such as a hand on the camper's forearm to help with archery, to assist with explanation and execution of each activity.
"Last year we saw how much the campers enjoyed the experience. They were smiling, laughing and trying new things that some people might think they never would. Seeing them get into a harness and take on the climbing wall as their friends cheer them on is just incredible," says Scharf.
The group stayed at camp for five days and luckily for campers, the weather cooperated, allowing them to get outside and take full advantage of the many activities.
Katharine Garrett, who is hard of hearing, was looking forward to being challenged and thrilled and Camp Manitou did not disappoint.
"I was excited to come to camp because I knew there are adventures here. I'm an adventurous person and I wanted to try different things," she says.
Garrett, like most participants, had never tried archery or ziplining but once she tried it, she was hooked.
"Everyone here loves to try new things and new experiences. I got to try rock climbing and I really enjoyed the challenge."
Whether it was the adventures and activities or the bonds that were made, the Deaf-Blind Camp is about celebrating commonalities and providing an opportunity for socialization among a group that individually can be prone to feeling isolated.
Heath says they have already reserved a five-day spot "for the next 20 years every September," with the goal of maxing out camp's capacity.