Celebrating a milestone – WJHA graduation
June 25, 2019 5:09 pm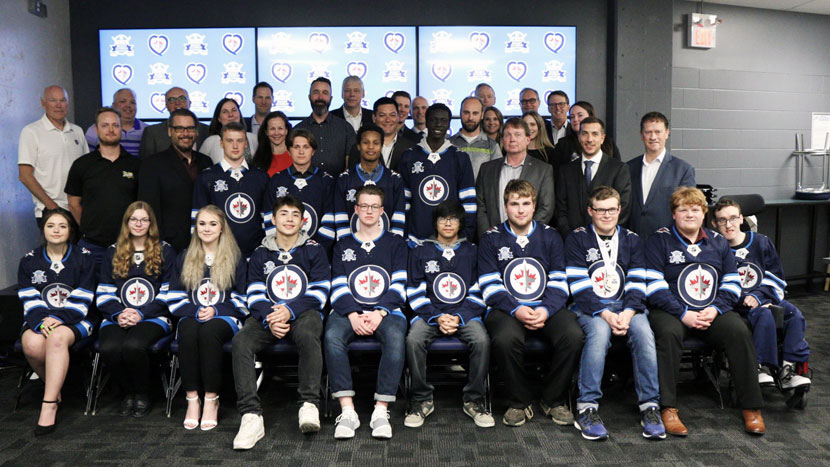 Lean on the people around you while working to create the best version of yourself.
That was the advice Winnipeg Jets Head Coach Paul Maurice offered to the 17 student athlete graduates from the Winnipeg Jets Hockey Academy (WJHA) at a celebration held in their honour.
The True North Youth Foundation (TNYF) hosted its second annual WJHA graduation dinner to mark the end of the 2018-19 school year and a remarkable journey. Graduates were presented with a custom-designed medal and a Winnipeg Jets Jersey complete with a commemorative patch, and got an exclusive behind-the-scenes tour of the Winnipeg Jets locker room at Bell MTS Place.
For Murray Cobb, Director of the Winnipeg Jets Hockey Academy, the event is an important way to honour the graduates and all the hard work they put in to reach this milestone.
"Everyone works so hard to ensure our program continues to grow so we can help more kids pursue their dreams so we wanted to put together a special night for them."
Mark Chipman, Executive Chairman and Governor of the Winnipeg Jets and TNYF board member, looked at the room of graduates and thanked each one of them for their commitment and continuous self-improvement.
"Everyone at the True North Youth Foundation is so incredibly proud of these kids. They stuck with the program, we know they will do great things with their lives and one day maybe they'll come back to help kids just like them."
Two students were the recipients of inaugural scholarships presented at the dinner that recognized their tireless work ethic and pursuit of post-secondary education.
Madison was awarded the Birdies 4 Blades $1,000 scholarship and is planning to attend the University of Manitoba in the fall to become a geneticist or a forensic scientist. Chris Davin organizes the annual golf tournament and he says it made perfect sense to "open up our wallets and give back."
"Growing up, my friends and I had access to new sticks and gloves pretty easily and I think we definitely took that for granted. When I approached Murray and found out more about the hockey academy I thought this was a perfect fit for us."
According to Davin, he's been blown away with Madison's commitment to her education and is thrilled to help her pursue her post-secondary dreams.
The Winnipeg Jets Alumni & Friends partnered with the TNYF to create a scholarship recognizing someone with exceptional character and commitment who has has taken full advantage of the opportunities the WJHA has to offer. Janna will put the $1,500 award toward a degree in education at the University of Manitoba this fall.
The WJHA also celebrated five additional graduates who were the recipients of school and community scholarships at their high school ceremonies.
Corey Coker, WJHA coach and Manager of Academic Performance, closed out the memorable evening commenting on the collective pride he and his staff all shared in being fortunate enough to watch the 17 student athletes reach their goals, strive for more and become outstanding role models.