Continued support from familiar faces
July 9, 2019 2:34 pm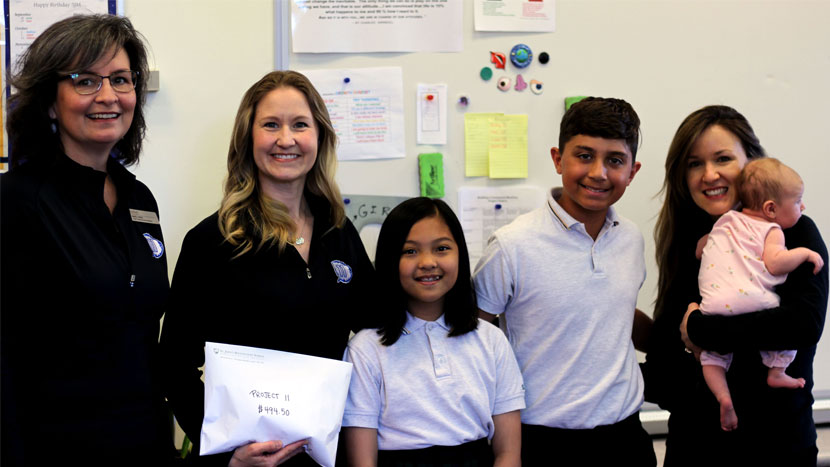 St. John's Ravenscourt (SJR) School continued their support for Project 11 with yet another
student-organized fundraiser.
A partner of Project 11 from the beginning, SJR was one of the first pilot schools when the curriculum was originally launched in 2013. Project 11 curriculum and SJR students have grown alongside each other, working closely together to introduce new videos, practices and exercises and the program has clearly made an impact.
The Grade 5 class took the lead on organizing an event that involved the entire junior school program, engaging all students in Grades 1 through 5, in various activities.
"There was lots to do and the kids really loved it. They had a bean-bag toss, freezies, a mini-stick shootout and temporary tattoos," says Grade 5 teacher Lee Davis adding that dancing was the most popular activity.
Davis was particularly impressed with how the students incorporated positivity and kindness into the event, by providing large sheets of paper and encouraging everyone to write positive messages.
Each student received a goodie bag that the Grade 5 students had assembled and Davis and his fellow teachers were pleasantly surprised to see the bags didn't contain any candy.
"They put toys in there and every student got a small slip of paper with a positive message written on it. Something like 'you're awesome,' but some kids also wrote short paragraphs or other encouraging words."
The entire SJR faculty was extremely proud to take a step back and watch young students help fellow students they may have never met have a really fun day.
While the event was mostly about spreading happiness and joy, SJR students also raised nearly $500 in support of Project 11.
Students asked for donations, although not mandatory, of any size from students and parents throughout the Junior School Program.
Experiencing first-hand the benefits of Project 11's mindfulness activities and wellness lessons has made the students want to give back.
One of the students who helped with the event, Malcolm, says learning about wellness practices and coping strategies now will lead to better health down the road.
"If we work on it now, then we'll be better prepared for our future and we can help our friends if they need any help."
Classmate Elsie says that the program has showed her why it is so important to talk about mental health with friends and family.
"We don't always know how people are feeling and it isn't good to keep all that inside. Talking about it makes you feel better and not so anxious."
Davis and his fellow teachers continue to be amazed at how eager the kids are to learn new mental health practices and watch as they band together to help out other kids in the community.
"It's one thing for our students to see the value in Project 11, but when we see them actively working together to help other kids in other communities, that's when we know we're not just teaching kids, we're teaching future leaders."