One of the guys
June 24, 2019 2:43 pm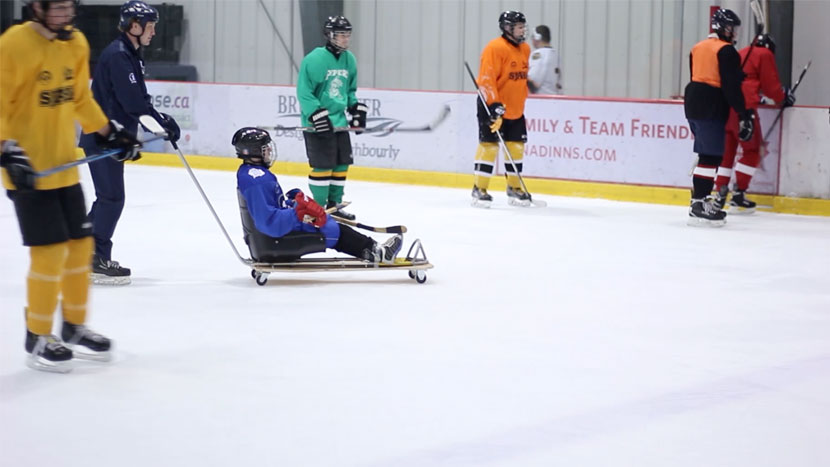 Sport has a powerful way of bringing people together.
People from all walks of life can come to a court, field or rink to work together and feel a sense of belonging. Dylan Burton is one of those people.
"Dylan was born 99 days early so we knew immediately that hockey was going to be part of his life, we just didn't know how," says his mother Jackie Cairns.
By the time Burton was two years old he had been diagnosed with Cerebral Palsy.
Cairns had worked tirelessly to make sure her son had every opportunity that his friends did and one day it became clear how hockey would come to Burton's life when she was approached by Mark Chipman and Murray Cobb from the True North Youth Foundation. They wanted to lend some supports to Burton and maybe even get him onto the ice.
"They assured us they would have all the right equipment for Dylan. They told us they wanted to try it and see what happens. It was very exciting," she says.
When Chipman and Cobb showed Hollywood his first sled and he strapped in, his anxiety fell away and he felt like one of the guys out on the ice. He was overjoyed at the new opportunity and could hardly contain his excitement at finally being able to be on the ice with his brother and his friends instead of watching them.
"I've always loved hockey and I've always wanted to play. I knew I couldn't play exactly like everyone else but I'm so thankful every day that I was given this opportunity."
Burton, or Hollywood as he's come to be known, has been part of the Winnipeg Jets Hockey Academy (WJHA) since Grade 3 and as his high school graduation neared, he smiled and laughed looking back on his time in the program.
"Everything about it has been just awesome. The coaches help me on the ice and if I ever need help off the ice, the staff here are always willing to help," he says.
Hollywood's humour is one of the first things to catch people's attention. He cracks jokes during the car ride to the rink with his mom, laughs along to the morning radio and takes the occasional shot at his coaches and teammates. It was his contagious positive attitude and self-confidence that earned him his nickname.
"This program has helped me come a long way with my self-confidence and the staff has shown me that I can achieve my goals, I can push myself and I'm willing to try new things," he says.
Hollywood's assurance and humour is on full display as he's asked to reflect on the friends he's made since joining the program.
"Too many to count."
He feels fortunate to have met some incredible people who have helped him through tough times and he knows he always has people he can talk to. Off the ice, his friends have played a huge role in his life, but it's the small things on the ice that he says make a world of difference.
"They know I can't do all the drills but they always know how to modify drills so that I can do them to the best of my abilities."
Cairns knows what being part of the WJHA has meant to Hollywood and believes seeing him get out onto the ice goes well beyond her son. She knows Hollywood is a role model for younger kids who want to get involved in sport.
"I don't think he's fully realized how important he is for other kids. He's always wanted to be one of the guys so I don't think he's ever stopped to really think about that."
When a younger girl joined the WJHA and needed a sled, Cairns proudly looked on as Hollywood gave her the sled he had when he first hit the ice.
"He'll tell you he gave it to her because it was the right thing to do but it's more than that. He knows how important being included in something like this is and he wants everyone to feel like that. I'm incredibly proud to have him as my son."